Game Description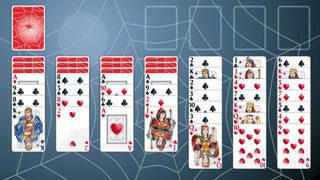 Spider Solitaire is a classic card game that has been enjoyed by millions of players worldwide. Known for its challenging gameplay and strategic thinking, this game is a true test of your card-playing skills. Get ready to immerse yourself in the world of Spider Solitaire.
Game Controls
Before diving into the game, familiarize yourself with the controls:
Mouse: Use the mouse to interact with cards and menus.
How to Play Spider Solitaire
Spider Solitaire is played with two decks of cards (104 cards total) and comes in different variations. The most common version is the one suit (spades) game, but you can also play with two suits (spades and hearts) or four suits (spades, hearts, diamonds, and clubs). Here's how to play the one suit version:
Objective: The goal is to arrange all cards in descending order from King to Ace in the tableau area, forming eight complete sequences or suits.
Setting Up: At the beginning of the game, 54 cards are dealt in ten tableau columns. The first four columns have six cards each, and the remaining six columns have five cards each. The remaining 50 cards form the stock.
Card Movement:

You can move cards between tableau columns to reveal face-down cards and create descending sequences of cards in the same suit.
Any sequence of cards in descending order, regardless of suit, can be moved together.
When you empty a tableau column, you can place any King or a sequence starting with a King in that space.

Stock and Talon:

You can draw cards from the stock to the talon (a reserve pile) to help in building sequences.
Click on the stock to deal one card to the talon at a time.

Empty Spaces:

When a tableau column is completely cleared, it can only be filled with a King or a sequence starting with a King.

Victory:

You win the game when you successfully arrange all cards in descending order by suit from King to Ace in the tableau.

Hint and Undo:

Most Spider Solitaire games provide a hint feature to suggest possible moves.
You can also use the undo button to reverse your moves if you make a mistake.
Tips and Tricks
Mastering Spider Solitaire requires both strategy and patience. Here are some tips to improve your game:
Focus on Emptying Columns: Try to clear tableau columns as soon as possible to create spaces for Kings.
Build in Suit: When possible, build sequences in the same suit to make it easier to move cards.
Plan Ahead: Think several moves ahead and consider the consequences of each move.
Use the Undo Feature Sparingly: While it's helpful, try not to rely too heavily on the undo button to improve your skills.
Game Developer
Spider Solitaire games have been developed by various game developers and are available on multiple gaming platforms.
Game Platforms
You can play Spider Solitaire on various platforms, including:
Web Browsers: Spider Solitaire is commonly available as a free online game and can be played directly in your web browser.
Mobile Devices: Download the game on iOS and Android devices to play on the go.
How to Play Unblocked
To play Spider Solitaire unblocked, simply search for "Spider Solitaire unblocked" in your web browser, and you'll find websites that offer the game without any restrictions or paywalls. Enjoy the game without interruptions.