Game Description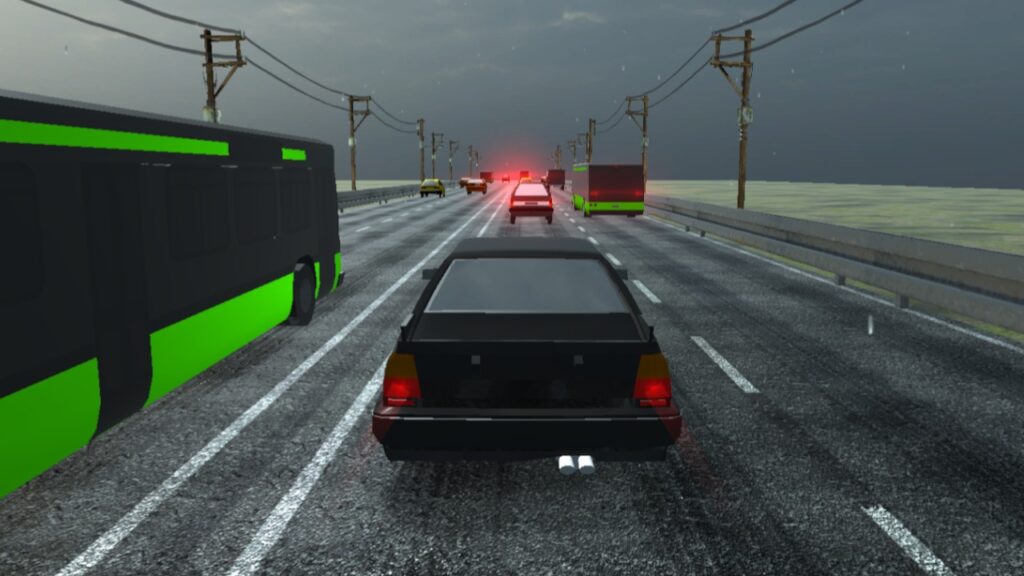 Highway Traffic is an exhilarating online racing game that puts your driving skills to the test. Developed by KABloom Interactive, this game offers high-speed action and challenges you to navigate through traffic on busy highways.
Game Controls
Master the road with these controls:
Arrow Keys: Use the arrow keys (Up, Down, Left, Right) to control your car's movement.
Spacebar: Activate the handbrake for sudden stops or drifting maneuvers.
How to Play Highway Traffic
Get ready to hit the road and race through the traffic. Here's how to play:
Choose Your Car: Start by selecting your preferred car from the available options.
Navigate Traffic: Use the arrow keys to steer your car through the traffic on the highway.
Avoid Collisions: Dodge other vehicles on the road to avoid crashes and maintain your speed.
Collect Coins: Grab coins scattered along the highway to earn points.
Race Against Time: Try to reach the checkpoints within the allotted time to progress.
Upgrade Your Car: Use the collected coins to upgrade your vehicle for improved performance.
Complete Challenges: Take on various challenges and missions to earn rewards.
Tips and Tricks
Here are some tips to help you conquer the highway:
Stay Alert: Keep a close eye on the traffic around you and anticipate other drivers' movements.
Use the Handbrake: When executed correctly, handbrake turns can help you navigate tight spots and avoid collisions.
Collect Coins: Grab as many coins as you can to boost your score and upgrade your car.
Upgrade Wisely: Invest in upgrades that suit your preferred playstyle, whether it's speed, handling, or braking.
Complete Challenges: Challenge yourself by completing missions and tasks for extra rewards.
Game Developer
Highway Traffic was developed by KABloom Interactive, known for creating entertaining and exciting online games.
Game Platforms
You can enjoy the thrill of Highway Traffic on the following platform:
Web Browser: Play the game directly in your web browser without any downloads.
Mobile Devices: Download the game on iOS and Android devices to play on the go.
How to Play Unblocked
To play Highway Traffic unblocked and without restrictions, follow these steps:
Check School or Work Restrictions: Ensure that your school or workplace doesn't have strict internet restrictions or content filters that might block gaming websites.
Visit Official Game Websites: Go to the official website or gaming platforms associated with Highway Traffic to access the unblocked version of the game.
Internet Connection: Make sure you have a stable internet connection to enjoy uninterrupted highway racing action.
Start Your Engines: Once you've accessed the unblocked version, rev up your engines, and hit the highway for some high-speed fun!
In summary, Highway Traffic offers a thrilling and fast-paced driving experience as you navigate through busy highways and aim for high scores. With various challenges and upgrades, it provides endless entertainment for fans of racing games. Get ready to test your reflexes and become the ultimate highway racer!