Game Description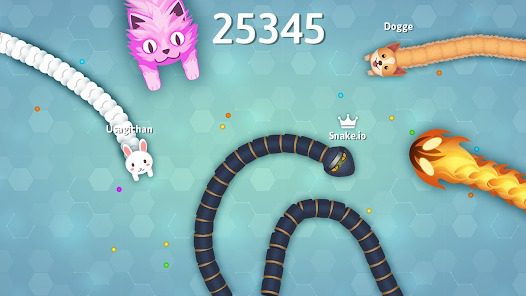 "Snake.io" is a modern take on the classic Snake game that has captivated players for generations. Developed by Kooapps Games, this multiplayer arcade game offers a thrilling and competitive experience where you control a colorful snake and aim to become the biggest and baddest serpent in the arena.
Game Controls
Mastering the controls is essential for success in "Snake.io." Here are the controls you need to know:
Touchscreen Devices: On mobile devices, simply swipe your finger in the direction you want your snake to move.
Keyboard and Mouse: On computers, you can use the arrow keys or mouse cursor to control your snake's direction.
How to Play Snake.io
Playing "Snake.io" is straightforward, but achieving high scores can be challenging. Here's how to get started:
Start Small: Begin the game as a small snake and focus on consuming colorful dots scattered throughout the arena. Each dot you eat makes your snake grow longer.
Avoid Collisions: Be cautious not to collide with other snakes, including your tail or other players. Running into any snake results in a game over.
Eliminate Opponents: If you encounter a smaller snake, you can strategically encircle and trap it to force a collision and eliminate it from the game.
Collect Power-Ups: Look for power-ups in the form of glowing orbs. These can give your snake temporary boosts, such as increased speed or invincibility.
Compete and Survive: Your goal is to survive for as long as possible and become the largest snake in the arena. The longer you survive and the more opponents you eliminate, the higher your score will be.
Leaderboard: Keep an eye on the leaderboard to see how your snake ranks against others in real-time.
Tips and Tricks
To excel in "Snake.io," consider these strategies:
Stealthy Moves: Use sudden turns and quick maneuvers to outsmart opponents and avoid head-on collisions.
Control the Center: In the early game, try to control the center of the arena, where more dots spawn. This gives you a better chance to grow quickly.
Circle Smaller Snakes: If you're larger than another snake, try to encircle it and force it into a collision.
Watch Your Tail: Be mindful of your own tail. Running into it is just as deadly as colliding with another snake.
Use Power-Ups Wisely: Save power-ups for critical moments, such as escaping from a dangerous situation or chasing down a target.
Game Developer
"Snake.io" was developed by Kooapps Games, a game development company known for creating casual and mobile games.
Game Platforms
You can enjoy "Snake.io" on various platforms:
Mobile Devices: The game is available for both Android and iOS devices and can be downloaded from their respective app stores.
Web Browser: "Snake.io" can also be played directly in web browsers, allowing for a quick and accessible gaming experience.
How to Play Unblocked
To play "Snake.io" unblocked, follow these steps:
Check School or Work Restrictions: Ensure that your school or workplace doesn't have strict internet restrictions or content filters that might block gaming websites.
Mobile App: If web access is restricted, consider downloading the game as a mobile app and playing it on your smartphone or tablet.
VPN: You can use a Virtual Private Network (VPN) to bypass certain restrictions and access blocked websites or games.
Now that you're equipped with the knowledge of "Snake.io," jump into the colorful arena, slither your way to the top, and dominate the competition!