Game Description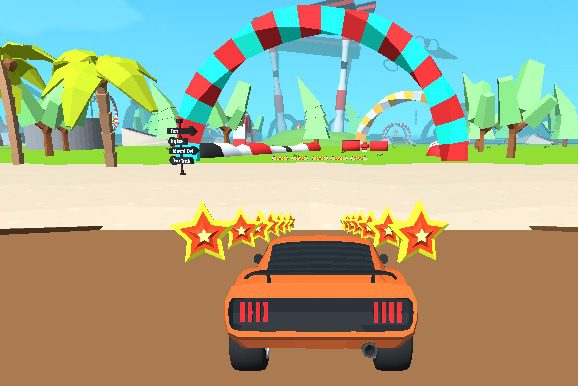 Crazy Cars is a high-speed racing game that will satisfy your need for adrenaline and fast-paced action. Developed by Titus Interactive, this classic racing game offers a thrilling experience as you compete against other drivers on a variety of tracks and aim to be the ultimate champion.
Game Controls
Understanding the game controls is crucial to mastering Crazy Cars. Here are the controls you need to know:
Arrow Keys: Use the arrow keys on your keyboard to steer your car. The up arrow accelerates, the down arrow applies brakes, and the left and right arrows control your car's direction.
How to Play Crazy Cars
To excel at Crazy Cars, follow these steps:
Choose Your Car: Start by selecting your racing car from the available options. Each car may have different attributes, so pick one that suits your racing style.
Select a Track: Next, choose a track to race on. Different tracks offer various challenges, from city streets to off-road courses.
Race Competitors: Once the race begins, compete against other drivers to reach the finish line first. Use your driving skills to outmaneuver opponents and avoid obstacles.
Collect Power-Ups: Keep an eye out for power-ups scattered across the track. These items can provide speed boosts or special abilities that give you an advantage.
Avoid Crashes: Be cautious when navigating turns and intersections. Collisions with other cars or obstacles can slow you down significantly.
Finish First: Your goal is to finish the race in the first position. Winning races will earn you rewards and unlock new cars and tracks.
Upgrade Your Car: Use your rewards to upgrade your car's performance, such as acceleration, top speed, and handling. A well-upgraded car can give you a competitive edge.
Tips and Tricks
To maximize your success in Crazy Cars, consider these tips:
Master Cornering: Learn how to take corners effectively. Slow down before a turn and accelerate out of it to maintain speed.
Use Power-Ups Wisely: Don't waste power-ups. Save them for crucial moments, such as when you're behind or need a burst of speed to overtake opponents.
Study Each Track: Familiarize yourself with the tracks to anticipate upcoming challenges, such as sharp turns or narrow passages.
Upgrade Strategically: Prioritize upgrades based on your playstyle. If you struggle with control, focus on handling improvements; if you need more speed, upgrade acceleration and top speed.
Game Developer
Crazy Cars was developed by Titus Interactive, a game development company known for creating a variety of video games across different genres.
Game Platforms
You can enjoy Crazy Cars on various platforms, including:
Mobile Devices: Download the game on iOS and Android devices to play on the go.
How to Play Unblocked
To play Crazy Cars unblocked, you can follow these steps:
Check Emulation Websites: Look for websites or platforms that offer emulated versions of MS-DOS games. These sites often allow you to play classic games like Crazy Cars in your web browser without restrictions.
Download Emulators: If you want to play the game on your computer, consider downloading an MS-DOS emulator. Once installed, you can run the game through the emulator without encountering blocks.
Now that you're well-versed in the world of Crazy Cars, it's time to rev up your engines, hit the racetrack, and aim for victory in this thrilling racing game. Good luck, and may the fastest driver win!