Game Overview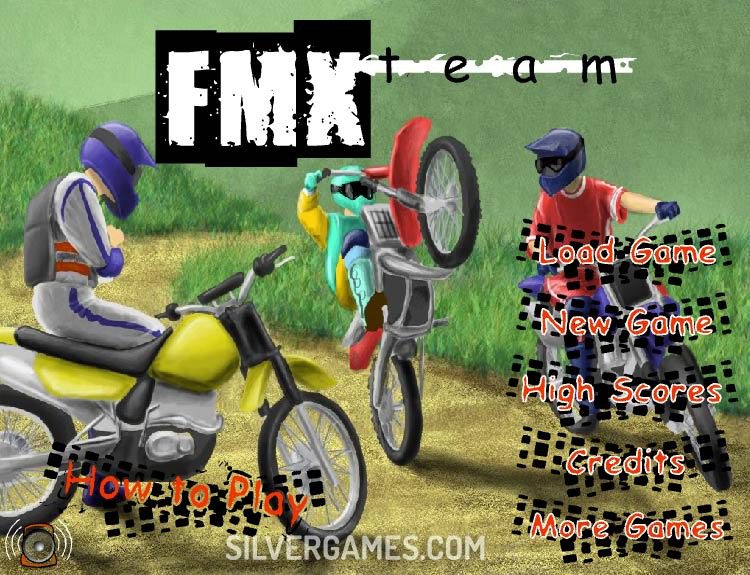 FMX Team is an exciting motocross stunt game that challenges players to perform daring tricks and stunts on a motocross bike. It offers a thrilling experience for fans of extreme sports and motorbike enthusiasts.
Game Controls
Understanding the controls in FMX Team is crucial for executing stunning stunts and maneuvers:
Up Arrow: Accelerate and tilt the bike forward.
Down Arrow: Apply the brakes and tilt the bike backward.
Left Arrow: Lean the rider backward.
Right Arrow: Lean the rider forward.
Number Keys (1 to 7): Perform various stunts and tricks while in the air.
How to Play FMX Team
In FMX Team, you'll aim to complete challenging levels and achieve high scores by performing stunts. Here's how to get started:
Objective: Your main goal is to complete each level while earning as many points as possible by executing stunts.
Starting a Level: Choose a level and get ready to ride. Each level presents different obstacles and opportunities for stunts.
Performing Stunts: While in the air, use the number keys (1 to 7) to perform flips, spins, and other tricks. Combine tricks to earn extra points.
Balancing: Maintain the balance of your rider by using the arrow keys to lean forward or backward. Proper balance is essential for landing safely.
Time Management: Complete the level within the given time limit to earn additional points.
Level Objectives: Some levels may have specific objectives, such as reaching a certain score or performing a particular stunt.
Upgrade Your Bike: Earn points to upgrade your bike's performance and unlock new levels.
Tips and Tricks
To become a skilled FMX rider, consider these helpful tips:
Practice Makes Perfect: Spend time in practice mode to master your stunts and improve your skills.
Land Smoothly: Focus on landing your stunts smoothly to avoid crashes and maximize your score.
Use Boost Wisely: Some levels offer a boost feature. Use it strategically to clear obstacles or perform high-scoring tricks.
Learn Level Layouts: Familiarize yourself with each level's layout to plan your stunts effectively.
Game Developer
FMX Team is developed by IriySoft, a game development company known for its exciting and challenging online games.
Game Platforms
Mobile Devices: Download the game on iOS and Android devices to play on the go.
How to Play Unblocked
Playing FMX Team unblocked can be done by visiting reputable gaming websites that offer the game without restrictions. Make sure to choose a trusted source for a safe gaming experience.
Now, gear up, rev your engines, and prepare to dazzle the audience with your motocross skills in FMX Team. If you have any further questions or need additional information, feel free to ask.