Game Description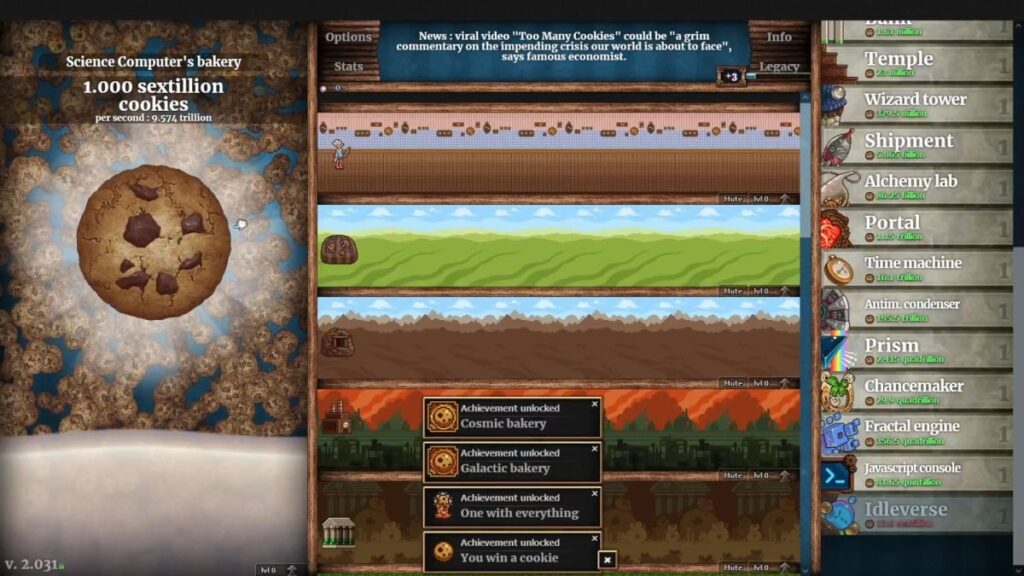 Cookie Clicker is an addictive and entertaining incremental game developed by Orteil and Opti. In this game, your primary objective is to bake as many cookies as possible by clicking on a big cookie icon. As you accumulate cookies, you can invest in various upgrades and buildings to automate the cookie production process and unlock new features.
Game Controls
Mastering the controls is simple in Cookie Clicker. You only need a mouse or touchpad to play. Here are the basic controls:
Left-click: Click on the big cookie to generate cookies.
How to Play Cookie Clicker
Cookie Clicker is easy to pick up and play. Follow these steps to get started:
Click to Generate Cookies: Begin by clicking on the big cookie icon on the screen. Each click produces cookies, and your goal is to accumulate as many as possible.
Buy Upgrades: As you gather cookies, you can use them to purchase upgrades, such as cursor improvements, grandma helpers, and more. These upgrades increase your cookie production rate.
Purchase Buildings: As your cookie production grows, you can buy various buildings like farms, factories, and banks. Each building generates cookies automatically over time.
Unlock Achievements: Cookie Clicker features a wide range of achievements that you can unlock by reaching certain milestones. These achievements provide bonuses and can be quite rewarding.
Manage Your Cookie Empire: As your cookie empire expands, keep an eye on your cookie per second (CPS) rate. The higher your CPS, the more cookies you'll generate.
Reset (Optional): Once you've made significant progress and earned lots of heavenly chips (a special in-game currency), you may choose to "Ascend." Ascending resets your game but allows you to earn heavenly chips, which boost your production in subsequent playthroughs.
Continue to Expand: Cookie Clicker is an endless game, so your goal is to continue growing your cookie production indefinitely. Discover new upgrades and aim for incredible cookie production rates.
Tips and Tricks
To maximize your cookie production in Cookie Clicker, consider these tips:
Upgrade Strategically: Spend your cookies on upgrades and buildings that offer the best value for your current situation. Look for upgrades that provide substantial CPS boosts.
Active vs. Idle Play: You can play actively by clicking the big cookie or passively by letting your automated buildings generate cookies. Balancing both playstyles can be efficient.
Golden Cookies: Keep an eye out for golden cookies that appear randomly. Clicking them can grant significant bonuses.
Grandmas Are Powerful: Grandmas might seem harmless, but they become one of your most potent cookie producers as you progress. Don't underestimate them.
Plan Your Ascension: When you decide to ascend, make sure you have earned a substantial number of heavenly chips to benefit your next playthrough.
Game Developer
Cookie Clicker was developed by Orteil and Opti, known for their work in creating engaging and addictive incremental games.
Game Platforms
You can enjoy Cookie Clicker on various platforms:
Web Browser: Play the game directly in your web browser without the need for downloads or installations.
Mobile Devices: Download the game on iOS and Android devices to play on the go.
How to Play Unblocked
Cookie Clicker is usually accessible on most networks and devices without restrictions. Simply visit the official website or trusted gaming portals that host the game, and you can enjoy the addictive cookie-clicking experience without any obstacles.