Game Description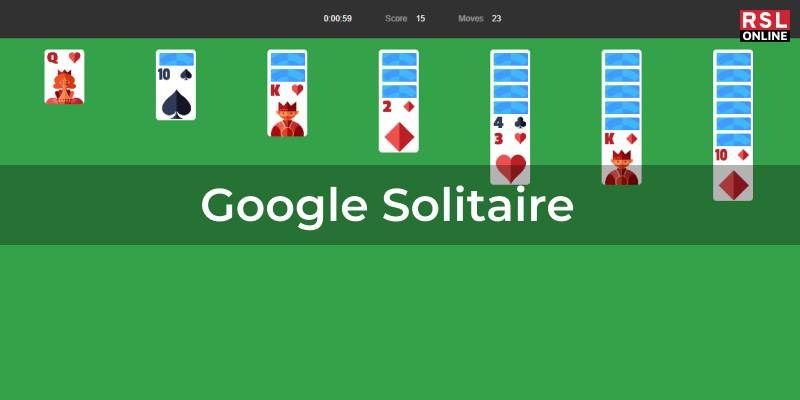 Google Solitaire is a classic card game that provides hours of entertainment and challenges your card-playing skills. Whether you're a solitaire pro or new to the game, Google Solitaire offers a fun and relaxing experience.
Game Controls
Familiarize yourself with the game controls to enjoy a smooth gaming experience:
Mouse: Use the mouse to interact with cards and menus.
How to Play Google Solitaire
Google Solitaire is played with a standard deck of 52 cards. The objective is to build four foundation piles, each starting with an Ace and ending with a King, in each of the four suits (hearts, diamonds, clubs, and spades). Here's how to play:
Setting Up: At the beginning of the game, cards are shuffled and dealt into seven tableau columns. The first column has one face-up card, the second column has two cards (one face down, one face up), and so on, with the seventh column having seven cards (one face down, six face up).
Card Movement:

You can move cards between tableau columns to expose face-down cards and create sequences in descending order (King to Ace) alternating between red and black suits.
Sequences of cards in descending order can be moved together.
A King can be moved to an empty tableau column.

Foundation Piles:

Build foundation piles by placing Aces at the start and continuing with cards of the same suit in ascending order (Ace, 2, 3, 4, 5, 6, 7, 8, 9, 10, Jack, Queen, King).
You win the game when you successfully build all four foundation piles.

Stock and Waste:

The stock pile contains the remaining undealt cards.
Click on the stock pile to draw one card at a time to the waste pile.
You can cycle through the stock pile three times.

Waste Pile:

You can move cards from the waste pile back to the tableau or foundation piles.
To win, you must use all cards from the waste pile.

Hints and Undo:

If you're stuck, use the hint feature for a suggested move.
The undo button allows you to reverse your last move if needed.
Tips and Tricks
Improve your Google Solitaire skills with these tips:
Plan Your Moves: Think ahead and consider how each move affects your options.
Empty Columns: Try to clear tableau columns to expose face-down cards.
Build Foundations Early: Focus on building foundation piles as soon as possible.
Don't Rush: Take your time; there's no time limit.
Game Developer
Google Solitaire is a version of the classic solitaire card game and is not attributed to a specific developer.
Game Platforms
You can enjoy Google Solitaire on various platforms, including:
Web Browsers: Google Solitaire is accessible for free on web browsers, making it easy to play without any downloads.
Mobile Devices: Download the game on iOS and Android devices to play on the go.
How to Play Unblocked
To play Google Solitaire unblocked, simply search for "Google Solitaire unblocked" in your preferred web browser. Many websites offer unblocked versions of the game, allowing you to enjoy it without any restrictions or interruptions.