Game Description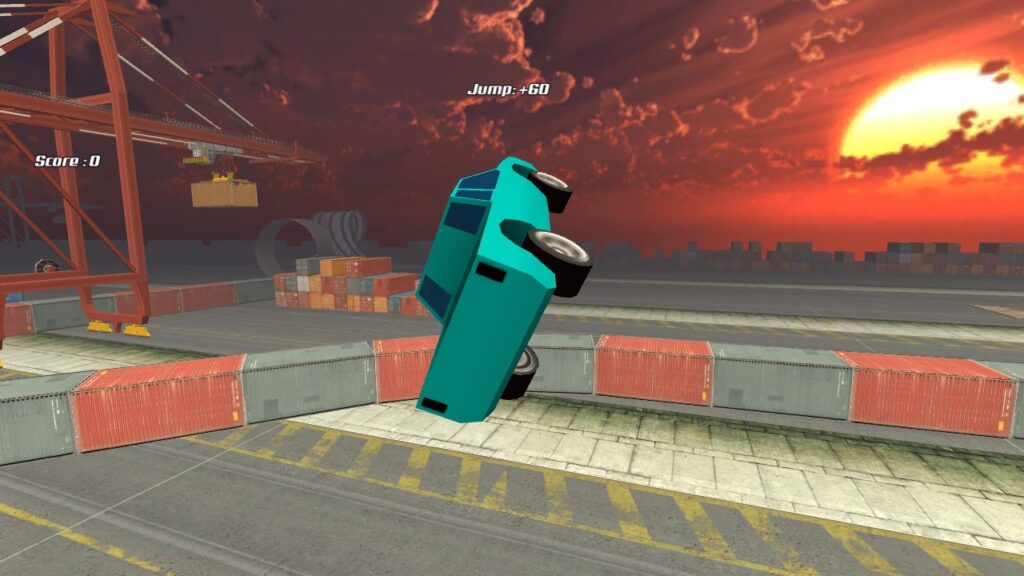 Stunt Simulator Multiplayer is an adrenaline-pumping online game that lets you live out your wildest stunt performer fantasies. Developed by Madalin Stanciu, this multiplayer game offers an array of vehicles and a massive open world for you to unleash your creativity and perform jaw-dropping stunts alongside other players.
Game Controls
Take control of various vehicles and navigate the world of Stunt Simulator Multiplayer with these controls:
WASD or Arrow Keys: Drive or steer your vehicle.
Spacebar: Activate handbrake for sharp turns and drifting.
C: Change camera angles to get the best view of your stunts.
T: Show/hide chat for communication with other players.
R: Repair your vehicle when things get too rough.
Shift: Activate nitro for a speed boost.
G: Respawn your vehicle if you get stuck or crash.
How to Play Stunt Simulator Multiplayer
Stunt Simulator Multiplayer offers an exciting sandbox environment for you to explore. Here's how to get started:
Choose Your Vehicle: Select from a range of vehicles, including sports cars, trucks, and even a tank.
Explore the Open World: Roam freely in a vast open world filled with ramps, loops, and stunt-worthy features.
Perform Stunts: Let your creativity shine as you perform breathtaking stunts. Use ramps, loops, and other structures to showcase your skills.
Interact with Others: Engage with fellow players in the game. Chat, challenge them to stunts, or simply enjoy each other's performances.
Customize Your Ride: Personalize your vehicle with different skins and modifications to stand out in the stunt arena.
Have Fun: Above all, Stunt Simulator Multiplayer is about having a blast while pushing the limits of what's possible in the world of stunts.
Tips and Tricks
To become a master of the stunts in Stunt Simulator Multiplayer, consider these tips:
Practice Makes Perfect: Spend time honing your skills and getting comfortable with the controls.
Experiment: Try out different vehicles and explore various stunt locations to discover new possibilities.
Collaborate: Team up with other players for synchronized stunts and even more spectacular performances.
Safety First: Remember to use the repair function (R) if your vehicle gets damaged to keep the stunts going.
Game Developer
Stunt Simulator Multiplayer was created by Madalin Stanciu, a developer known for crafting exciting multiplayer experiences.
Game Platforms
You can enjoy the thrill of Stunt Simulator Multiplayer on the following platforms:
Web Browser: Play the game directly in your web browser without any downloads.
Mobile Devices: Download the game on iOS and Android devices to play on the go.
How to Play Unblocked
To play Stunt Simulator Multiplayer unblocked and without restrictions, follow these steps:
Check School or Work Restrictions: Ensure that your school or workplace doesn't have strict internet restrictions or content filters that might block gaming websites.
Visit Official Game Websites: Go to the official website or gaming platforms associated with Stunt Simulator Multiplayer to access the unblocked version of the game.
Internet Connection: Make sure you have a stable internet connection to enjoy seamless stunt action with other players.
Start Stuntin': Once you've accessed the unblocked version, dive into the game, connect with fellow stunt enthusiasts, and let the stunts begin!
In summary, Stunt Simulator Multiplayer offers an exhilarating playground for those who crave high-flying, gravity-defying action. With a variety of vehicles and an open world to explore, this game is all about pushing the boundaries of stunts while having an incredible time with friends and fellow players. Get ready to rev your engines, hit the ramps, and soar to new stunt heights!