Game Description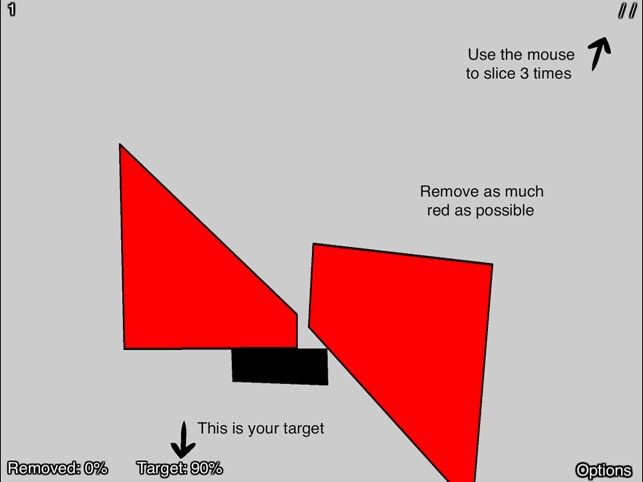 3 Slices is a brain-teasing physics-based puzzle game that will put your slicing skills to the test. Developed by Gaz Thomas, this game challenges you to strategically cut various shapes into equal parts to solve each level.
Game Controls
Navigate the game with these controls:
Mouse: Use the mouse to slice objects by clicking and dragging across them.
How to Play 3 Slices
Embark on your slicing adventure by following these steps:
Understand the Goal: In each level, your goal is to slice the given shape into equal or nearly equal parts. The number of slices allowed is limited.
Analyze the Shape: Carefully examine the shape you need to cut. Identify where you should make your cuts to achieve equal parts.
Make Your Slices: Click and drag the mouse to create slices through the shape. Be precise in your cutting to get the desired outcome.
Complete the Level: If you successfully create the required number of equal parts, you'll advance to the next level. Otherwise, you may need to retry.
Limited Slices: Keep in mind that you have a limited number of slices to use in each level. Use them wisely to solve the puzzles.
Tips and Tricks
To excel in 3 Slices, consider these tips:
Plan Ahead: Before making any cuts, plan your slicing strategy. Visualize how the shape will split into equal parts.
Use Angled Cuts: Experiment with diagonal or angled cuts to achieve more precise divisions.
Minimize Waste: Avoid unnecessary cuts, as they count towards your limited slices. Efficiency is key.
Think Outside the Box: Sometimes, unconventional cuts are the solution. Don't be afraid to try new approaches.
Practice Patience: Some levels may require multiple attempts. Stay patient and keep refining your strategy.
Game Developer
3 Slices was developed by Gaz Thomas, a game developer known for creating challenging and brain-teasing puzzle games.
Game Platforms
You can enjoy 3 Slices on the following platform:
Web Browser: Play the game online directly in your web browser without any downloads.
Mobile Devices: Download the game on iOS and Android devices to play on the go.
How to Play Unblocked
To play 3 Slices unblocked and without restrictions, follow these steps:
Check School or Work Restrictions: Ensure that your school or workplace doesn't have strict internet restrictions or content filters that might block gaming websites.
Visit Official Game Websites: Go to the official website or gaming platforms associated with 3 Slices to access the unblocked version of the game.
Start Slicing: Once you've accessed the unblocked version, begin slicing shapes and solving puzzles to your heart's content.
In summary, 3 Slices is a challenging puzzle game that will test your spatial reasoning and slicing skills. Dive into this world of geometry and precision to conquer each level!