Game Description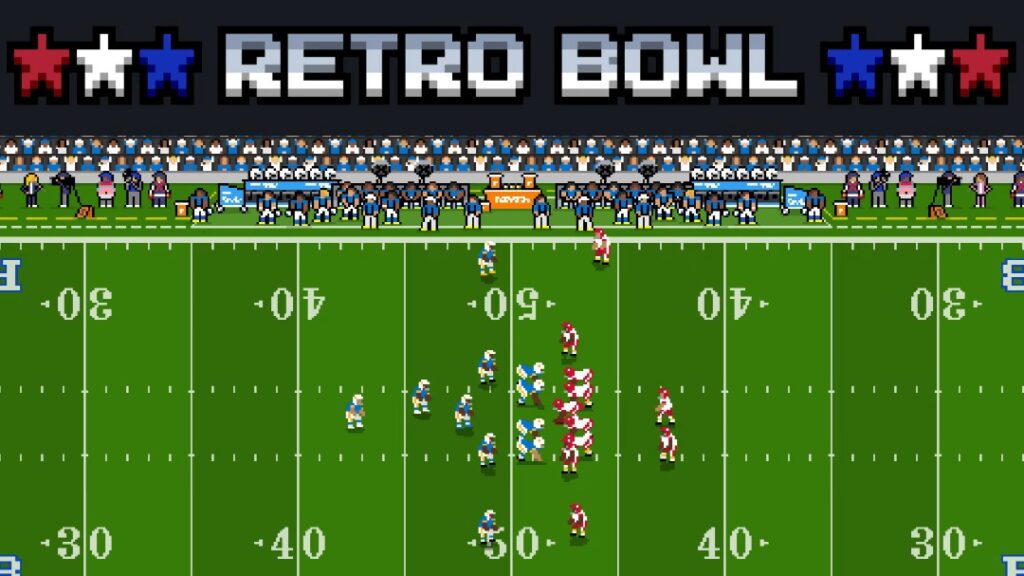 Retro Bowl Fan-made is an exciting, unofficial homage to the popular Retro Bowl football management game. This fan-made version captures the essence of the original and offers a similar gameplay experience.
Game Controls
Navigate the game with ease using these controls:
Mouse: Use the mouse to interact with the game's interface and make selections.
How to Play Retro Bowl Fan-made
Get ready to manage your football team and lead them to victory in Retro Bowl Fan-made with these steps:
Start a New Game: Click on the "New Game" option to begin your Retro Bowl journey.
Team Creation: Create your own team by selecting players and assigning positions. Make sure to choose wisely to build a winning team.
Manage Your Team: As the manager, you have control over your team's strategies, training, and gameplans. Make decisions that will lead your team to success.
Gameplay: During games, you can choose plays, make substitutions, and lead your team on the field to victory.
Season Progression: Play through a season, aiming for the championship title. Manage your team effectively to improve their skills and chances of winning.
Upgrade and Improve: Use in-game currency to upgrade your stadium, hire staff, and enhance your team's performance.
Achieve Success: The goal is to win championships, improve your team's stats, and become a legendary football manager.
Tips and Tricks
To excel in Retro Bowl Fan-made, consider these tips:
Strategic Playcalling: Choose your plays wisely during games, considering your team's strengths and weaknesses.
Player Development: Invest in training to improve your players' skills over time.
Balanced Team: Build a well-rounded team with strong offense and defense to increase your chances of success.
Manage Finances: Keep an eye on your team's finances to ensure you can afford upgrades and maintain a competitive team.
Game Developer
Retro Bowl Fan-made is a fan-made adaptation of the original Retro Bowl game, developed by dedicated fans of the franchise.
Game Platforms
You can enjoy Retro Bowl Fan-made on the following platform:
Web Browser: Play the game online directly in your web browser.
Mobile Devices: Download the game on iOS and Android devices to play on the go.
How to Play Unblocked
To play Retro Bowl Fan-made unblocked, follow these steps:
Check School or Work Restrictions: Ensure that your school or workplace doesn't have strict internet restrictions or content filters that might block gaming websites.
Visit Fan-Made Game Websites: Look for websites or forums dedicated to Retro Bowl Fan-made, where you can often find unblocked versions of the game.
Internet Connection: Make sure you have a stable internet connection to enjoy uninterrupted football management.
Start Playing: Once you've accessed the unblocked version, begin your football management journey and lead your team to glory in Retro Bowl Fan-made!
Retro Bowl Fan-made captures the essence of the original game, allowing you to manage and lead your football team to victory. Make strategic decisions, develop your players, and aim for championship glory in this unofficial homage to Retro Bowl.