Game Description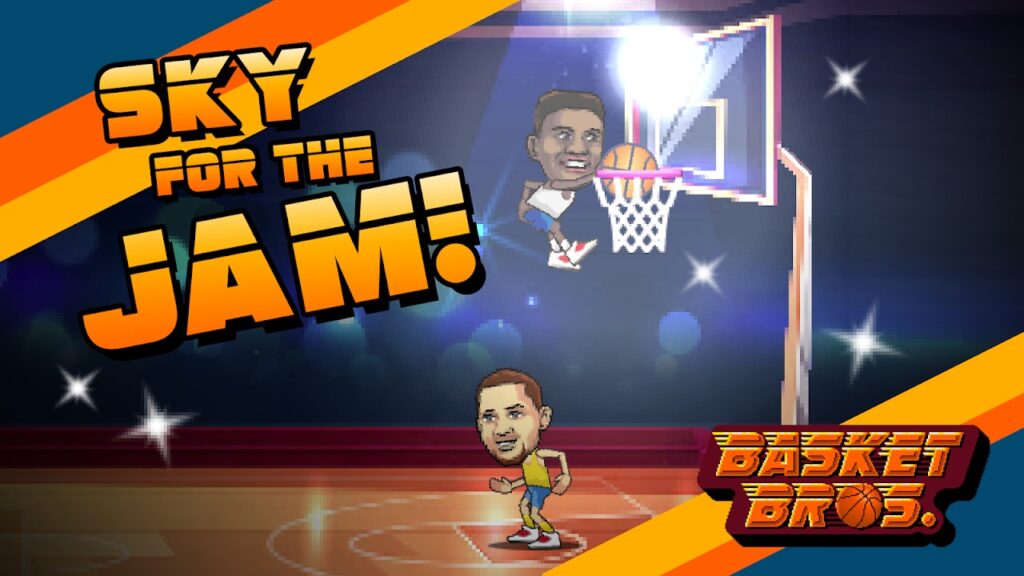 Basket Bros is a fast-paced and entertaining online basketball game that promises hours of fun and exciting gameplay. Developed by MadPuffers, this game lets you challenge your friends or AI opponents to thrilling basketball matches in various unique settings.
Game Controls
Get ready to dribble, shoot, and score with these controls:
Player 1 (Left Side):

Move: WASD
Jump: W
Shoot/Block: B
Pass/Steal: V

Player 2 (Right Side):

Move: Arrow Keys
Jump: Up Arrow
Shoot/Block: L
Pass/Steal: K
How to Play Basket Bros
Enjoy the basketball action by following these steps:
Select Your Team: Start by choosing your basketball team from a variety of unique characters, each with their special abilities and skills.
Game Modes: Basket Bros offers different game modes, including a tournament, random match, and two-player mode.
Score Points: Use your basketball skills to outscore your opponent. Make slam dunks, perfect your three-pointers, and defend your basket.
Master Special Moves: Each character has a unique special move. Learn how to use them strategically to gain the upper hand.
Win the Match: The player or team with the most points at the end of the match wins. Keep the competition fierce to secure victory.
Tips and Tricks
To become a basketball legend in Basket Bros, consider these tips:
Team Synergy: Choose teammates whose skills complement each other for a well-rounded team.
Defense Matters: Don't neglect defense. Timing your blocks and steals can make a significant difference.
Perfect Your Shots: Spend time practicing your shooting skills to increase your scoring potential.
Special Moves: Master your character's special moves, as they can be a game-changer.
Two-Player Mode: Challenge a friend in the two-player mode for intense head-to-head matches.
Game Developer
Basket Bros was developed by MadPuffers, a game developer known for creating exciting and competitive online games.
Game Platforms
You can enjoy the basketball showdowns of Basket Bros on the following platform:
Web Browser: Play the game directly in your web browser.
Mobile Devices: Download the game on iOS and Android devices to play on the go.
How to Play Unblocked
To play Basket Bros unblocked and without restrictions, follow these steps:
Check School or Work Restrictions: Ensure that your school or workplace doesn't have strict internet restrictions or content filters that might block gaming websites.
Visit Official Game Websites: Access the unblocked version by visiting the official website or gaming platforms associated with Basket Bros.
Team Up and Compete: Once you've accessed the unblocked version, team up with friends or challenge opponents for unlimited basketball fun.
In summary, Basket Bros delivers exciting basketball action with a variety of characters, special moves, and game modes. Challenge your friends or AI opponents and aim for victory in this thrilling basketball game!