Game Description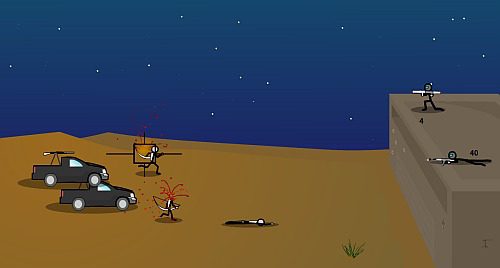 Welcome to the thrilling realm of Stick Defenders, an action-packed online game where you command stick figures defending their territory against unyielding waves of enemies. Engage in strategic gameplay as you deploy defenders, fortify your defenses, and wage an epic battle to safeguard your land.
Game Controls
Commanding victory in Stick Defenders demands mastery of the controls:
Movement: Navigate your stick figure defender using the arrow keys or W, A, S, D keys.
Aiming: Precisely adjust your aim by moving the mouse.
Attack: Unleash devastating attacks with a click of the left mouse button.
Special Abilities: Activate unique defender abilities seamlessly using the number keys.
Switch Weapons: Cycle through an array of weapons effortlessly with the mouse wheel or number keys.
How to Play Stick Defenders
Initiating your Stick Defenders journey involves a strategic and immersive process:
Choose Your Defender: Select a stick figure defender, each equipped with distinctive abilities and weapons.
Strategic Defenses: Position barricades strategically and deploy additional defenders to construct an impenetrable line of defense.
Battle Against Waves: Confront relentless waves of stick figure enemies. Defend your territory, avert breaches, and endure the relentless onslaught.
Upgrade Defenders: Accumulate points by vanquishing enemies. Invest these points wisely to upgrade defenders, unlock potent weapons, and reinforce your defenses.
Adapt to Escalating Challenges: As waves intensify, adapt your strategy to meet the escalating difficulty head-on.
Tips and Tricks
Enhance your Stick Defenders prowess with these strategic insights:
Strategic Placement: Position defenders tactically to optimize their effectiveness against incoming waves.
Intelligent Upgrades: Prioritize upgrades based on the strengths and weaknesses of your defenders.
Savvy Special Abilities: Deploy special abilities judiciously to shift the tide of battle without becoming overwhelmed.
Versatile Defenses: Experiment with different defenders and weapons to discover the most potent combinations.
Resource Management: Keep vigilant watch over resources to maintain a steady flow of upgrades and reinforcements.
Game Developer
Stick Defenders is a testament to the dedication of a skilled team of game developers committed to delivering an immersive and challenging gaming experience. Their passion is unmistakable in the detailed design and dynamic gameplay of Stick Defenders.
Game Platforms
Download the game on iOS and Android devices to play on the go.
How to Play Unblocked
Unlock the full potential of Stick Defenders with these methods for uninterrupted gameplay:
VPN Solutions: Employ Virtual Private Networks (VPNs) to bypass restrictions and access unblocked gameplay.
Proxy Servers: Conceal your location and gain unblocked entry using proxy servers.
Browser Extensions: Install dedicated browser extensions tailored for unblocking games and websites to ensure seamless play.
Immerse yourself in the intense world of Stick Defenders, where strategic acumen, precision, and swift decision-making are your keys to triumph against relentless waves of stick figure adversaries!