Game Description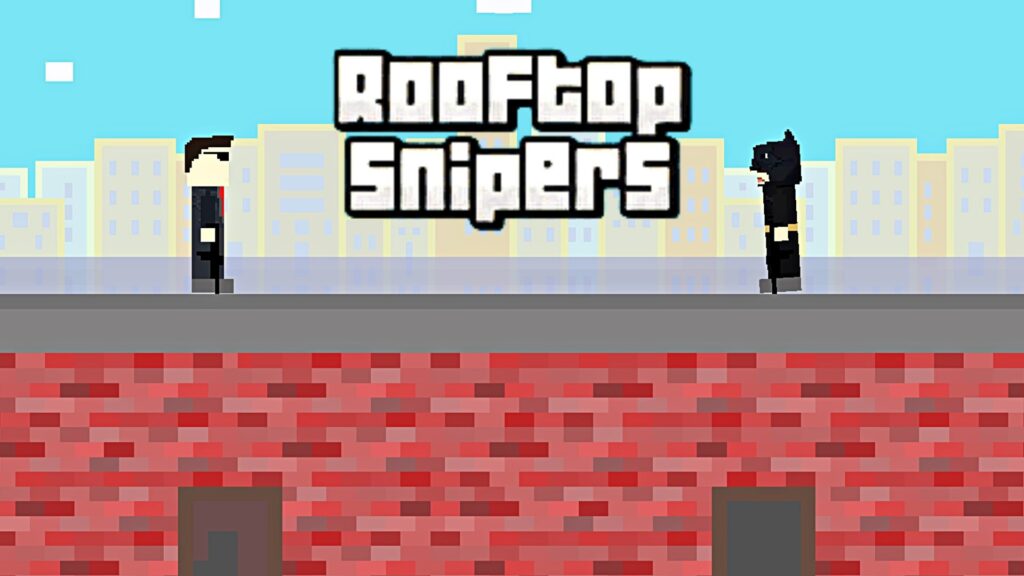 Rooftop Snipers is an exhilarating and addictive 2-player shooting game that thrusts you and a friend onto the heights of skyscrapers, each armed with a lethal sniper rifle. The objective is clear-cut: eliminate your adversary before they do the same to you. With its straightforward yet captivating gameplay, this unblocked game promises hours of competitive enjoyment.
Game Controls
Before ascending to the urban rooftops, it's essential to acquaint yourself with the game controls:
Player 1:

Movement: "E" key
Jump: "W" key
Fire: "Q" key

Player 2:

Movement: Left arrow key
Jump: Up arrow key
Fire: Spacebar
How to Play Rooftop Snipers
Rooftop Snipers is effortless to pick up and play. Here's your guide to partaking in sniper duels amid the heights:
Character Selection: Both Player 1 and Player 2 must opt for their characters, each characterized by a unique and whimsical style.
Rooftop Showdown: As the game kicks off, you and your rival find yourselves on a city rooftop. Your primary goal is to eliminate your adversary by skillfully employing your sniper rifle.
Precise Aim and Fire: Utilize the aforementioned controls to maneuver, leap, and take well-aimed shots. Accurate timing and marksmanship are your allies in claiming victory in each round.
Victory in Rounds: Accumulate wins across multiple rounds to secure overall triumph. The pace of rounds is swift, enabling multiple matches in quick succession.
Tips and Tricks
To ascend as a rooftop sniper champion, contemplate these strategic nuggets:
Jump Timing: The art of timing your jumps is pivotal. A well-timed leap can make you a trickier target and aid you in evading incoming fire.
Precision in Aiming: Take your time to line up your shots. A precisely aimed bullet stands a better chance of finding its mark. Waste no precious ammunition.
Environmental Awareness: Rooftop settings incorporate obstacles and hazards. Employ them to your advantage, while remaining vigilant to avoid the precipice.
Psychological Warfare: On occasion, unpredictable movements can unsettle your opponent's aim. Confound them with your agility and unpredictability.
Game Developer
Rooftop Snipers is the brainchild of Michael Eichler, a game developer celebrated for crafting an array of compact and entertaining browser games.
Game Platforms
Download the game on iOS and Android devices to play on the go.
How to Play Unblocked
Accessing Rooftop Snipers free of inhibitions is a straightforward endeavor. It's commonly found on websites that offer unblocked games. Seek out trustworthy sources that provide the game without impediments, allowing you to engage in rapid and competitive sniper duels, whether solo or with friends.
In conclusion, Rooftop Snipers offers swift-paced and entertaining gameplay that puts your sniper skills to the test. Whether you're competing against a comrade or facing off against an AI opponent, the game's simplicity and addictiveness ensure hours of enjoyment.