Game Description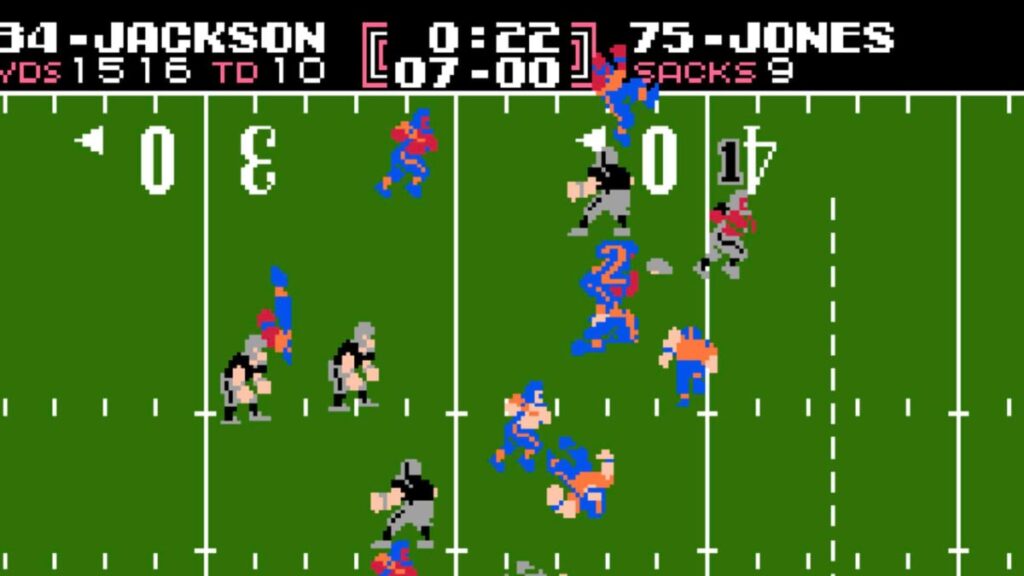 Tecmo Bowl is a classic American football video game that offers a fun and fast-paced gaming experience. Developed by Tecmo, this retro gem is known for its simple yet addictive gameplay and has remained a beloved title among football and gaming enthusiasts.
Game Controls
Get ready to hit the gridiron with these straightforward controls:
Arrow Keys: Use the arrow keys to control your players' movements.
A Button: Press the 'A' key for turbo speed bursts.
Start: Hit the 'Enter' key to start or pause the game.
How to Play Tecmo Bowl
Mastering Tecmo Bowl's gameplay is easy, but becoming a gridiron legend takes practice. Here's how to get started:
Select Your Team: Choose your favorite NFL team from the available options. Each team has its own strengths and weaknesses, so pick one that suits your playing style.
Offense: When you're on offense, use your players to dodge tackles, pass the ball, and rush towards the end zone to score touchdowns.
Defense: On defense, control your players to tackle the opposing team's ball carrier and prevent them from scoring.
Gameplay Strategies: Experiment with different plays and strategies to outmaneuver your opponent. Timing is crucial for successful passes and tackles.
Progress Through the Season: Play through a full NFL season, striving to win the championship. Your goal is to lead your team to victory by defeating all other teams.
Enjoy Multiplayer: Tecmo Bowl offers a multiplayer mode, so you can compete against friends for gridiron glory.
Tips and Tricks
To become a Tecmo Bowl legend, consider these tips:
Learn Your Team: Understand your team's strengths and weaknesses to make the most of their abilities.
Master Timing: Perfect your timing for passes and tackles to gain a competitive edge.
Experiment with Plays: Try different offensive and defensive plays to keep your opponent guessing.
Turbo Wisely: Use turbo bursts strategically to outrun defenders or catch fleeing opponents.
Game Developer
Tecmo Bowl was developed by Tecmo, a renowned video game developer known for its contributions to the gaming industry.
Game Platforms
You can enjoy Tecmo Bowl on the following platforms:
Mobile Devices: Download the game on iOS and Android devices to play on the go.
How to Play Unblocked
To play Tecmo Bowl unblocked, follow these steps:
Check School or Work Restrictions: Ensure that your school or workplace doesn't have strict internet restrictions or content filters that might block gaming websites.
Use Emulators: Explore NES emulators that allow you to play Tecmo Bowl online without restrictions.
Internet Connection: Make sure you have a stable internet connection to enjoy uninterrupted football action.
Start Playing: Once you've found a suitable emulator or platform, kick off your Tecmo Bowl journey and aim for gridiron greatness!
Tecmo Bowl offers an exciting blast from the past with its classic football gameplay. Whether you're a seasoned gamer or new to the sport, it's a game that delivers hours of fun and competitive action on the virtual gridiron. Get ready to dodge, pass, and tackle your way to victory!