Game Description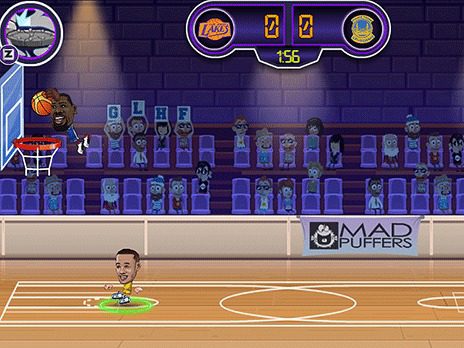 Basketball Stars is an action-packed basketball game that lets you step into the shoes of a basketball pro. Developed by MadPuffers, this game offers exciting one-on-one basketball duels and a chance to showcase your skills on the court.
Game Controls
Get ready to dribble and shoot with these controls:
Player 1 (Left Side):

Move: WASD
Jump: W
Shoot/Block: B
Steal: V

Player 2 (Right Side):

Move: Arrow Keys
Jump: Up Arrow
Shoot/Block: L
Steal: K
How to Play Basketball Stars
Experience the thrill of the game by following these steps:
Select Your Player: Begin by choosing your basketball avatar from a wide range of characters, each with unique skills and attributes.
Game Modes: Basketball Stars offers various game modes, including a tournament, random match, and two-player mode.
Score Big: Use your basketball prowess to outscore your opponent. Take shots, make dunks, and block your rival's attempts.
Master Special Moves: Each player has a unique special move. Utilize it wisely to gain an advantage over your opponent.
Win the Match: The player with the most points at the end of the match emerges victorious. Bring your A-game to secure the win.
Tips and Tricks
To excel in Basketball Stars, consider these tips:
Learn Player Skills: Familiarize yourself with your chosen player's strengths and weaknesses to strategize effectively.
Defense Wins Games: Don't underestimate the importance of defense. Timing your blocks and steals can turn the tide of the game.
Practice Your Shots: Precision is key when shooting. Spend time practicing your aim to become a scoring machine.
Use Special Moves Wisely: Each player's special move can be a game-changer. Use it at the right moment to catch your opponent off guard.
Two-Player Mode: Challenge a friend in the two-player mode for intense and competitive matches.
Game Developer
Basketball Stars was developed by MadPuffers, a game developer renowned for creating engaging and competitive online games.
Game Platforms
You can enjoy the basketball showdowns of Basketball Stars on the following platform:
Web Browser: Play the game directly in your web browser.
Mobile Devices: Download the game on iOS and Android devices to play on the go.
How to Play Unblocked
To play Basketball Stars unblocked and without restrictions, follow these steps:
Check School or Work Restrictions: Ensure that your school or workplace doesn't have strict internet restrictions or content filters that might block gaming websites.
Visit Official Game Websites: Access the unblocked version by visiting the official website or gaming platforms associated with Basketball Stars.
Get in the Game: Once you've accessed the unblocked version, hit the court and demonstrate your basketball skills without limitations.
In summary, Basketball Stars offers an exhilarating basketball experience where you can compete as a pro and showcase your abilities on the court. Choose your player, perfect your shots, and rise to victory in this thrilling basketball showdown!