Game Description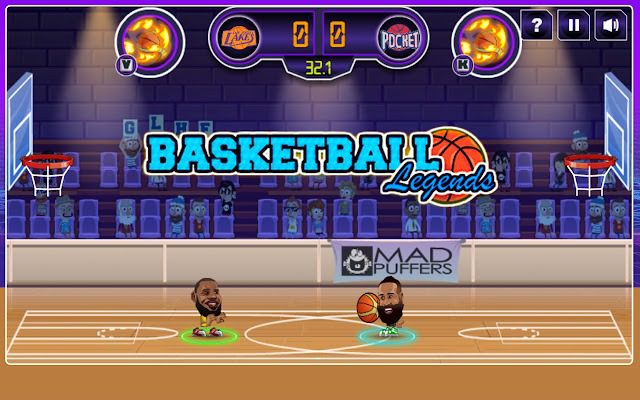 Basketball Legends is an exciting online basketball game that allows you to play as some of the greatest basketball legends in history. Developed by MadPuffers, this game offers thrilling one-on-one basketball action and the chance to compete with famous basketball players.
Game Controls
Get ready to hit the court with these controls:
Player 1 (Left Side):

Move: WASD
Jump: W
Shoot: B
Superpower: V

Player 2 (Right Side):

Move: Arrow Keys
Jump: Up Arrow
Shoot: L
Superpower: K
How to Play Basketball Legends
Experience the thrill of the game by following these steps:
Choose Your Player: Start by selecting your favorite basketball legend, such as LeBron James or Stephen Curry.
Game Modes: Basketball Legends offers various game modes, including a tournament, random match, and two-player mode.
Score Points: Use your basketball skills to outscore your opponent. Shoot hoops, perform dunks, and block your rival's shots.
Unleash Superpowers: As you play, your superpower meter will fill up. When it's full, press the designated key to unleash a powerful move unique to your chosen legend.
Win the Match: The player with the most points at the end of the match wins. Be strategic and make every shot count.
Tips and Tricks
To become a basketball legend yourself, consider these tips:
Master Superpowers: Learn the superpowers of your chosen player and use them strategically for an advantage.
Defense Matters: Don't just focus on offense; blocking your opponent's shots can be just as important.
Practice Timing: Timing is crucial for shooting and blocking. Practice your timing to become more accurate.
Two-Player Mode: Challenge a friend in two-player mode for intense head-to-head matches.
Enjoy the Roster: Experiment with different basketball legends to find your favorite playstyle.
Game Developer
Basketball Legends was developed by MadPuffers, a game developer known for creating engaging and competitive online games.
Game Platforms
You can enjoy the basketball showdowns of Basketball Legends on the following platform:
Web Browser: Play the game directly in your web browser.
Mobile Devices: Download the game on iOS and Android devices to play on the go.
How to Play Unblocked
To play Basketball Legends unblocked and without restrictions, follow these steps:
Check School or Work Restrictions: Ensure that your school or workplace doesn't have strict internet restrictions or content filters that might block gaming websites.
Visit Official Game Websites: Go to the official website or gaming platforms associated with Basketball Legends to access the unblocked version of the game.
Start Playing: Once you've accessed the unblocked version, hit the court and show off your basketball skills without any limitations.
In summary, Basketball Legends offers an exciting basketball gaming experience with legendary players, superpowers, and intense matches. Choose your favorite player, dominate the court, and become a true basketball legend!