Game Description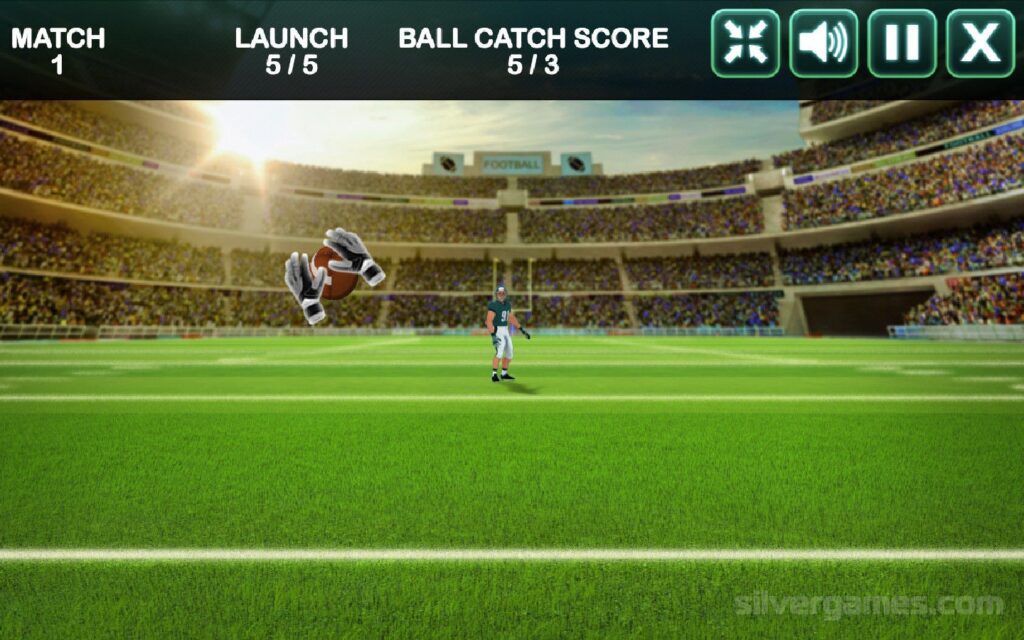 American Football Challenge is an exciting online American football game that tests your passing skills and accuracy. Developed by Silvergames, this game offers an immersive football experience where you can become the quarterback and lead your team to victory.
Game Controls
Get ready to throw some passes with these controls:
Mouse: Click and drag to aim your pass.
Release Mouse: Release the mouse button to throw the ball.
How to Play American Football Challenge
Become the star quarterback and win the game with these steps:
Choose Your Team: Start by selecting your team and jersey color.
Aim Your Pass: Click and drag your mouse to aim where you want to throw the ball.
Power Up: To make a powerful pass, drag your mouse further back before releasing it.
Accuracy Matters: Aim accurately to complete passes and gain more points.
Time Limit: Keep an eye on the timer. You have a limited amount of time to make successful passes.
Score Points: Successfully complete passes to your teammates to earn points and advance to the next level.
Level Challenges: Each level presents new challenges, including moving targets and increasing distances.
Win the Game: The goal is to score as many points as possible by completing passes to your teammates.
Tips and Tricks
To excel in American Football Challenge, consider these tips:
Aim Carefully: Take your time to aim your passes accurately, especially in later levels when the targets are smaller and move.
Power Up Strategically: Use the power-up feature wisely to make long-distance passes.
Watch the Timer: Keep an eye on the timer to ensure you complete passes within the allotted time.
Anticipate Movement: In advanced levels, anticipate the movement of your teammates and targets to pass effectively.
Practice Makes Perfect: Like any sport, practice is key to improving your skills.
Game Developer
American Football Challenge was developed by Silvergames, known for creating engaging and skill-based online games.
Game Platforms
You can enjoy American Football Challenge on the following platform:
Web Browser: Play the game directly in your web browser.
Mobile Devices: Download the game on iOS and Android devices to play on the go.
How to Play Unblocked
To play American Football Challenge unblocked, follow these steps:
Check School or Work Restrictions: Ensure that your school or workplace doesn't have strict internet restrictions or content filters that might block gaming websites.
Visit Official Game Websites: Go to the official website or gaming platforms associated with American Football Challenge to access the unblocked version of the game.
Internet Connection: Make sure you have a stable internet connection to enjoy uninterrupted passing action.
Start Playing: Once you've accessed the unblocked version, start throwing passes and aim for the highest score.
American Football Challenge offers a thrilling football experience where your passing skills are put to the test. Become the quarterback, aim accurately, and lead your team to victory in this exciting online game!